Location: Alwar, Rajasthan
Temperature: Summer: 32-45 oC; Winter: 5-28 oC
Best Time to Visit: October to March
Distances: 214 km from Delhi, 107 km from Jaipur, 256 km from Ajmer, 456 km from Jodhpur, 796 km from Ahmedabad, 1199 km from Mumbai
Nearest Airport: Sanganer International Airport (Jaipur)
Nearest Railway Station: Alwar Railway Station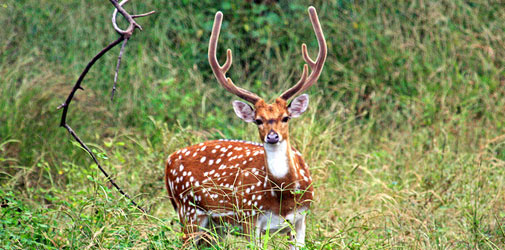 The diverse and multihued state of Rajasthan is filled with nature's paradoxes. On one hand, its lands are covered with vast expanses of golden sands and at the same time, the lush green regions amaze the onlooker. Sariska National Park, also known as Sariska Tiger Reserve, is one such azure place. The park is placed in the Alwar district amidst the ancient hills of Aravalis. It covers an area of around 800 sq km and was declared a sanctuary in 1955. However, this safe haven was granted the status of a National Park in 1979. Today, it is one of the major tourist hubs of wildlife and nature enthusiasts in India.
The park has an interesting topography that holds much similarity with Ranthambore National Park. Sariska has a wonderful landscape that offers panoramic views of the jagged peaks and deep valleys of the Northern Aravalis. Most of its land area lies under the canopy of dry deciduous and scrub thorn forests. Protruding rocks and sprawling grasslands further enhance its natural allure. The wildlife sanctuary supports a wide range of colorful and thriving wildlife. The star attractions of the park are the majestic striped big cats, called the "Tigers". This natural reserve is a wonderful place to spend a memorable vacation experiencing nature's glory.
Tourist Attractions
The park's wondrous wildlife is an absolute stunner. Besides, it also houses various historic monuments and ancient shrines which make it an irresistible tourist destination.
Wildlife Attractions
Sariska boasts of a marvelous variety of wildlife that makes it an absolutely exotic destination to visit. Its bountiful wildlife includes Tiger, Hyena, Jungle Cat, Jackal, Sambar, Wild Dog, Chital, Langur, Nilgai, Leopard, Chausingha, Rhesus Monkeys, etc. The park is inhabited by a variety of colorful and vibrant bird species as well. These include the Golden-backed Woodpecker, Tree Pie, Peafowl, Crested Serpent Eagle, Sand Grouse, Great Indian Horned Owl, Grey Partridge, Bush Quail, etc.
Kankwari Fort
Kankwari Fort is the only fort in Sariska and greatly enhances the rustic charm of this wildlife sanctuary. The origins of the fort can be traced back to the Mughal era. It is believed that Mughal Emperor Aurangzeb imprisoned his elder brother Prince Dara Shikoh here during the bloody succession wars after the death of Shahjahan. This towering citadel is placed atop a hill and provides great views of the surrounding areas of the Kankwari plateau and Gujjar villages. Though mostly in ruins now, it still exudes medieval charm.
Kalighati
This stretch of land is located just a little further from the main checkpoint of the park. It gets its name from the nearby village. Kalighati is well known since the highest number of tigers and panthers have been sighted here. A halt by this area during the jungle safari will let one soak into its scenic natural beauty and grandeur. It is most likely that one will be able to catch glimpses of a tiger or a panther.
Pandupol
This wonderful temple is located within the premises of the park on the hillside besides a gushing waterfall. The temple is dedicated to the monkey god, Lord Hanuman. The long winding staircase to reach the top of the waterfall gives one a chance to enjoy the tranquil surroundings. Pilgrimages are made to this temple throughout the year. The sparking water running down the slope is refreshing and soothing. The area is filled with numerous langurs and macaques with their antics a delight to watch.
Ancient Shiva Temples
These ancient structures are placed almost 32 km from the main gateway of Sariska National Park. They are major archeological sites that date back to as far as the 6th and 13th centuries. One of these structures is still intact and serves as a temple dedicated to Lord Shiva. Some trees in this area present an amazing phenomenon in themselves. A couple of these trees have died long back but the parasites that had lived on them, still maintain their original form and constitution.
Sariska Palace
This magnificent palace was constructed by Maharaja Jai Singh of Alwar. It was used as a hunting lodge by the erstwhile royals during their hunting trips here. Sariska Palace is filled with various interesting features like the beautiful antique furniture and photographs of the 1920s Royal Shikar (hunting trips). The opulent palace has been converted into a heritage hotel and is a great place to experience Rajasthani hospitality in regal and lavish settings.
Nearby Attractions
Sariska National Park is not located in some isolated spot; hence, there are various interesting tourist destinations located around it. One can plan various excursions to the following exciting places from here:
Alwar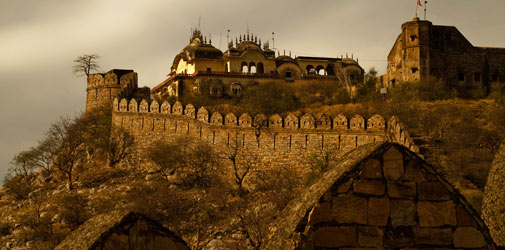 The marvelous historic city of Alwar is located only 36 km from Sariska and is a wonderful place to visit. This pristine city was founded by Rao Pratap Singh of Macheri Dynasty in around 1771. This splendid city is decked with many bravura monuments like its grand Alwar Fort also known as Bala Fort, City Palace and Moosi Maharani ki Chhatri. Besides, the city is also home to many outstanding natural spots like sparkling lakes and lush green gardens.
Siliserh Lake and Palace
The azure and sapphire Siliserh Lake is located in close proximity with Sariska National Park on the Alwar-Sariska Road. The beauty of the lake is greatly accentuated by the opulent palace constructed on its banks by Maharaja Vijay Singh in 1845. He constructed this lavish structure for his beloved queen Shila. The panoramic settings of the lake make for a perfect picnic spot and offer various recreational activities, like boating and sailing.
Deeg
The small and historic town of Deeg is studded with numerous ostentatious palaces and elaborate gardens. It is located only a few kilometers away from Sariska and is a perfect place to plan day trips. This petite settlement was founded by Suraj Mal in the 18th century. It is well known as the site where the troops of Maharaja Suraj Mal faced the combined armies of Marathas and Mughals. The town was used as a summer retreat by the rulers of Bharatpur.
Things / Activities to Do
The best thing to do here is to observe the diverse flora and fauna placed in the vast expanse of this wildlife sanctuary. One of the most comfortable and convenient ways to do so is by taking a jeep safari which takes one deep into the natural preserve. A visitor can experience the close proximity of the animals from the safety of the jeep. Elephant rides are also available at the park which is a great source of curiosity and entertainment for kids. Bird watching is another intriguing activity that one can indulge in. However, binoculars are an essential item to carry when visiting this prolific wildlife sanctuary.
How to Reach
Sariska is a much travelled destination of India and hence, is well linked with the rest of Rajasthan and country by the following means of transportation.
By Air
Sanganer International Airport is the nearest air terminus located near this national park, at a distance of 107 km. This airport has a good domestic connectivity with daily flights linking it with major cities like Delhi, Mumbai, Agra and Jodhpur. One can hire a taxi from there to reach the national park, at a cost of around Rs 2000. One can also hire a tourist cab from as far as Delhi, which is around 163 km from Sariska.
By Train
The nearest train station to Sariska is situated at Alwar which is around 36 km from it. The station lies on the Delhi-Jaipur track; thus, connecting it with major cities of India. One can hire a taxi from the station that charge around Rs 9 per km. Regular bus service is also available from Alwar to Sariska.
By Road
This resplendent wildlife sanctuary is located on the well constructed Delhi-Alwar-Jaipur highway. If one chooses to travel via road from Delhi to Sariska, the best route would be to take NH8 to Shahpura via Kot Putli and Patwa, turn left 1 km short of Shahpura and Sariska is 51 km straight run from here via Bairat and Thana Ghazi.
Timings and Entry Fee
This wonderful natural preserve remains open for visitors throughout the year and is accessible from 6.00 am – 10.00 am and 3.00 pm – 6.00 pm. The entry fee for the park is Rs 25 for Indians and Rs 200 for international tourists. Entry fee for private vehicles is around Rs 250. An additional fee of Rs 25 and Rs 200 has to be paid for still and video camera, respectively. The safari jeeps for a 3 hour tour charge around Rs 800-1000 while a full day trip can range about Rs 1700-2000.
Contact Information
Field Director
Sariska Tiger Reserves
P.O. Thanaganzi
District Alwar, Rajasthan
Phone No.: 0144-2841333 (O)+(R), 0141-2355199(R) (Jaipur)