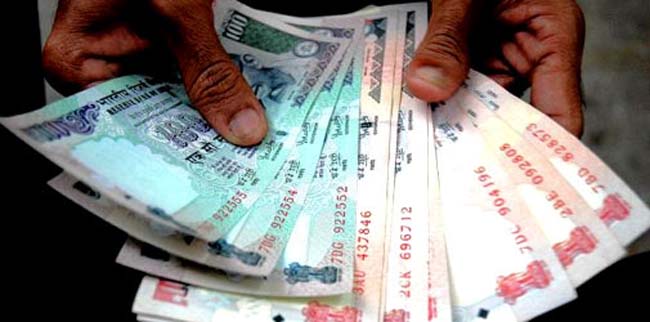 Indian currency is known as Rupee. The Indian money (rupee) is available in notes in denominations of Re 1, Rs 2, Rs 5, Rs 10, Rs 20, Rs 50, Rs 100, Rs 500 and Rs 1000. One rupee consists of a hundred paise. Paise are in denominations of 10p, 25p and 50p. However, these paise are rarely used now. Coins are available in Re 1, Rs 2 and Rs 5. While traveling to India, it is always advisable to keep a good amount of rupee notes with you, as you may have to use it the moment you step out from claiming your baggage. This is usually when you have to board a local taxi to your hotel or pay tip to baggage handlers. Since all currency may not be available at all banks, you may land up in a hassle trying to get some rupees in hand. However, with a little planning in advance, you can make your trip to India hassle-free.
Changing money in India can be a tedious and cumbersome process. Hence, it is best that you change a substantial amount at one time. Travelers' cheques are not accepted at each and every bank and those that avail such facility may accept only Amex and Thomas Cook cheques. US dollars, UK pounds and Euros are the most conveniently converted currencies across India. However, there are banks that offer exchange of other currencies as well, like Australian, New Zealand and Canadian dollars, and Swiss francs. Further, Pakistani, Nepali and Bangladeshi currencies are among the most difficult to change. Also, make sure to change the money at accredited bureaus only, as changing at any other place is illegal and also carries the risk of being counterfeit. Always insist on getting a currency exchange receipt that will serve as a proof of your funds in India. Such receipts include details like the amount of foreign currency exchanged for Indian rupee and the rate of exchange you were offered.There are no restrictions on the amount of foreign currency or travelers' cheques you carry to India. You may import any amount, provided you fill a declaration form upon arrival. This will help in exchanging your currency at the time of arrival as well as taking back your unspent currency at the time of leaving. You can get your currency exchanged at the airport itself. The moneychangers at the airports are open 24 hours. You can find them just before you leave the customs area. However, if you walk out of the airport, you may not be permitted to re-enter to make use of the facilities of the moneychangers. Therefore, be cautious while you de-board the flight and proceed for the immigration counter.
Besides, you can find moneychangers in major hotels as well. In big cities, you will find several branches of international foreign exchange providers. However, in small towns, only minor banks will be providing the service. You should save all exchange receipts (encashment certificates). You may require them for visa extensions and other formalities and at the time of returning back, when you want to convert the rupees back into your local currency. There are several ATMs connected with international networks in major cities of India which are open 24 hours. Cards accepted include Visa, MasterCard, Cirrus, Maestro, and Plus. Some of the banks that accept foreign cards are Citibank, ICICI, HDFC, Punjab National Bank, HSBC, Axis Bank, and State Bank of India.
Depending upon the bank, different commission charges are imposed on the amount exchanged and transactions made. However, the amount is usually reduced if larger transactions are made. Apart from the banks, there are several private moneychangers that open for longer hours compared to banks. However, before making the transaction, check the rates offered at both banks and private exchangers, though the latter provide a higher rate than the former. But always ask for a receipt and check the amount given to you. You can even make use of your international credit cards that are widely accepted in most stores, upscale restaurants, and midrange and high-end hotels. Also, your credit cards can be used for paying your flight and train tickets.
Authorized Foreign Exchange Dealers
Department of Posts, Ministry of Communications & IT (across major post offices in all districts of Indian states)
Thomas Cook (India) Ltd (branches across India)
Cox & Kings (India) Ltd (branches across India)
Bank of Tokyo-Mitsubishi UFJ Ltd (New Delhi)
Chinatrust Commercial Bank (New Delhi)
Oriental Bank of Commerce (New Delhi)
Punjab and Sind bank (New Delhi)
Punjab National Bank (New Delhi)
State Bank of Patiala (New Delhi)
JSC VTB Bank (New Delhi)
Axis Bank Ltd (Mumbai)
The Royal Bank of Scotland (Mumbai)
Bank International Indonesia (Mumbai)
Bank of Maharashtra (Mumbai)
Bank of America (Mumbai)
Bank of Baroda (Mumbai)
Citi Bank N.A. (Mumbai)
Deutsche Bank AG (Mumbai)
ING Vysya Bank Ltd (Bangalore)
State Bank of Mysore (Bangalore)
Vijaya Bank (Bangalore)
Bank of Ceylon (Chennai)
City Union Bank Ltd (Chennai)
Indian Bank (Chennai)
Indian Overseas Bank (Chennai)
The Karur Vysya Bank Ltd (Chennai)
Tamilnad Mercantile Bank Ltd (Chennai)
Allahabad Bank (Kolkata)
State Bank of Bikaner and Jaipur (Kolkata)
UCO Bank (Kolkata)
United Bank of India (Kolkata)
The Catholic Syrian Bank Ltd (Kochi)
The South Indian Bank Ltd (Kochi)
State Bank of Travancore (Ernakulam)
The Kalupur Commercial Cooperative Bank Limited (Ahmedabad)
The Cosmos Cooperative Bank Limited (Pune)
Muthoot Exchange Co (P) Ltd (branches across India)
Muthoot Fincorp Ltd (branches across India)
M/S UAE Exchange & Financial Services Ltd (branches across India)