Location: Bharatpur, Rajasthan
Temperature: Summer: 32-45 oC; Winter: 5-28 oC
Best Time to Visit: October to March
Distances: 117 km from Alwar, 184 km from Delhi, 176 km from Jaipur, 39 km from Mathura, 306 km from Kanpur, 377 km from Lucknow, 440 km from Chandigarh
Nearest Airport: Sanganer International Airport (Jaipur)
Nearest Railway Station: Bharatpur Railway Station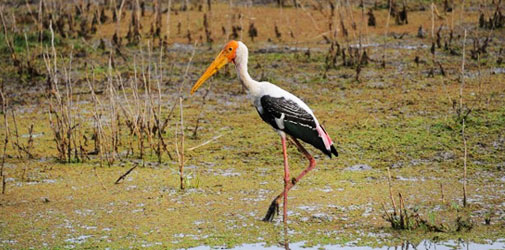 Bharatpur Bird Sanctuary is an outstanding natural conservational zone, where one can find hundreds of colorful avifauna species. This terrific park is also known as Keoladeo National Park or Keoladeo Ghana National Park. The park is world renowned for its chirping feathered guests who migrate to this region from across the world. It is one of the most important breeding grounds for various rare bird species. This splendid bird sanctuary extends over an expanse of 29 sq km and is inhabited by a wide range of thriving wildlife, though local and migratory birds remain its star attraction. The breathtaking natural vistas of the park are a perfect vacation spot to unwind and relax.
This bird watcher's paradise and a safe haven for various wildlife species is one of the oldest natural preserves of India created almost 250 years ago. The typical mold of erstwhile Maharajas of Rajasthan who were overtly fond of hunting was broken by the ruler of Bharatpur, Maharaja Surajmal. He established this private hunting zone so that the over killing of birds could be curbed. Post independence, Bharatpur private reserve was finally converted into a national park on March 10, 1982. It was recognized as a World Heritage Site by UNESCO in December 1985. The spectacular lush green forests that one sees in this region are a byproduct of the Ajan Bund which was constructed on convergence of two rivers, Gambhir and Banganga.
Tourist Attractions
Birdwatchers and ornithologists from around the world make a beeline to watch more than 300 species of birds housed in this park. The migratory bird population of the sanctuary is highest during the months of August through February as it is their breeding season. The extraordinarily rare Siberian Crane travels all the way from Central Asia to Bharatpur to lay eggs. Other migratory bird species include Coot Snipes, Spanish Sparrow, Red Crested Porhard, Rosy Pelican and Flamingo. These guests make the entire atmosphere of the park quite ethereal.
The vibrant and multihued birds paint the park in a palette of shades which makes it appear like a bird paradise. The park has various permanent feathery residents as well, like the geese, ducks, larks, shanks, stints, wagtails, pipits etc. which can be spotted here throughout the year. Besides the birds, the park also supports a wide range of animal population which includes almost 50 species of fish, 13 species of snakes, 5 species of lizards, 7 amphibian species and 7 species of turtles. The sanctuary is home to 27 mammal species as well that includes Blue bull, feral cattle, sambar deer, wild boar etc.
Nearby Attractions
There are many wondrous tourist destinations placed around Bharatpur Bird Sanctuary. To see these captivating sites, one must plan a day's excursion.
Bharatpur Palace
The magnificent Bharatpur Palace is an amalgamation of constructional efforts made by various Maharajas that ruled this region. The palace is an exquisite piece of medieval architecture that has both Mughal as well as Rajput styles inculcated in its design. The place has many opulently decorated chambers that have beautifully tiled floors.
Government Museum
This museum is situated within the impressive Bharatpur Palace and is a must visit spot. Placed in the central hall of the palace, this museum houses a rich and exorbitant collection of artifacts and antiquities that date back to as far as 2nd century. One can see various rare sculptures, paintings, and ancient inscriptions kept on display here.
Ganga Mandir
Ganga Mandir is dedicated to the goddess and was built by Maharaja Balwant Singh in 1845. This temple has resplendent architecture which enthralls all who lay their eyes on it. The shrine is covered with intricate carvings. It is believed that the temple was constructed from the fund accumulated by donations of one month's salaries of every state servant of the region.
Lohargarh Fort
This imposing and impenetrable citadel is famous throughout Rajasthan and has withstood numerous British attacks. The fort is not a luxurious accommodation but a brilliantly constructed army stronghold. It is encircled by a moat on all sides and its humongous gate is built of Ashtadhatu (eight-metal), decorated with murals of elephants. Kishori Mahal, Mahal Khas, Moti Mahal, Kothi Khas, Jawahar Burj, Fateh Burj, etc.
Deeg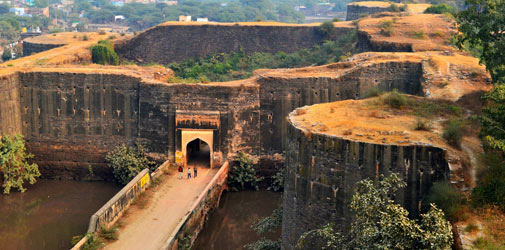 It is a small city placed almost 32 km from Bharatpur. This historic city was a summer resort for the erstwhile rulers of this region. It houses various incredible monuments that include the Deeg Fortress, spread over an area of 7.8 km, and Suraj Mal Haveli, constructed according to Bengali architectural style. One can also explore extraordinary gardens and vibrant markets located inside the city.
Things / Activities to Do
The best and foremost thing to do here is watch flocks of beautiful and multihued birds flying across the vast vistas of this sanctuary. Carrying a binocular is a must, otherwise one might miss out on the once-in-a-lifetime opportunity to view some of the rarest and most exotic species of birds in the world. The early morning safari with a local jungle guide is the best way to explore this marvelous place. There are various interesting safari options available for a visitor here that includes cycling through the bird sanctuary. Early morning is the ideal time to explore the idyllic beauty of this park. The authorized rickshaw pullers at the park are trained in bird watching and hence, make terrific guides.
Another great option is the boat safari, which is organized inside the main lake of the sanctuary where most of the animals and birds come to quench their thirst. This is a wonderful way to observe the wildlife at close proximity. The best time to go on this safari is either early morning or late evening. Nature walk, along the numerous well defined natural trails, is one of the most intriguing ways to experience the splendor of this sanctuary. The nature trails take one much deeper into the thick forested area of the park but it is necessary to take along an authorized guide when walking on foot through the natural reserve. These fun activities make Bharatpur Bird Sanctuary a delightful place to spend vacations surrounded by nature's glory.
How to Reach
Bharatpur Bird Sanctuary is a hot zone for bird watchers from across the world and lakhs of tourists visit it every year. Thus, the place is well connected with the rest of Rajasthan and India by the following means of transportation.
By Air
The closest airport to this natural reserve is placed at Jaipur which is around 176 km from it. Another great option for international travelers is the international airport at New Delhi, which is quite near to this location at around 184 km. This airport is well connected with all major cities of the world. One can hire a taxi from there to reach Bharatpur. The journey costs around Rs 3000.
By Train
The closest and most convenient railway station to reach this site is Bharatpur Railway Junction, located almost 5 km away from the sanctuary. This is a major railway junction of the region since it is placed in the central railway zone. It is a regular stopover for trains coming from Jaipur, Delhi, Ahmedabad, Mumbai and other major cities of India.
By Road
Bharatpur is well connected with rest of the country with a good network of roads. State as well as private owned buses are available from Agra, Fatepur Sikri, Jaipur and many other cities of North India. One can also get deluxe buses from New Delhi, Jaipur and Alwar to reach Bharatpur. They charge around Rs 3 to 5 per km.
Timings and Entry Fee
This amazing vibrant bird sanctuary remains open throughout the year for visitors from 6 am to 6 pm every day. Indian Nationals are charged Rs 25 whereas foreigners are required to pay Rs 200 as entry fee. One can explore this park on hired vehicles like bicycle, cycle rickshaw, Tonga or boat after paying a fee of Rs 50.
Contact Information
Deputy Chief Wildlife Warden
Keoladeo National Park
Bharatpur
Tel.: 05644-22722