Venue:
Celebrated throughout Rajasthan
Duration:
18 days
Period:
During the months of March and April
Significance:
Celebrates marriage of Goddess Gauri with Lord Shiva
Main Attractions:
Cultural performances, grand processions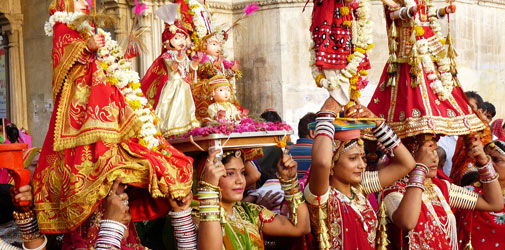 This wonderful festival is exclusively celebrated in Rajasthan and some parts of Gujarat as well as Madhya Pradesh and nowhere else in India. Gangaur is a colorful religious festival, which is observed by the women across Rajasthan with great devotion and sacred sentiments. The festival is celebrated between the months of March and April every year. During this festival, women worship Goddess Gauri who is Lord Shiva's wife. This festival celebrates bountiful harvest, dawning of spring, and marital commitment between couples.
The term 'Gangaur' is an amalgamation of two distinct words, Gana, which represents Lord Shiva, and Gaur, which is synonymous for Goddess Gauri or Parvity. Together, both these deities represent perfect marital match, which all couples idolize. The goddess is worshiped by both single as well as married women. Unmarried women believe that the goddess will bless them with a good husband and those who are already married pray for the wellbeing and long life of their husbands. This festival is a wonderful occasion to visit Rajasthan and soak in its festive passion.
Celebrations
The festivities of Gangaur continue for 18 days. The celebrations start from the next day of holy festival and culminate on the 3rd day of Shukla Paksha of Chaitra month. During these 18 days of festival, women wear choicest of clothes and ornaments. There are massive and vibrant fairs organized throughout Rajasthan. Not one but innumerable legend and folklores are related with this festival that have made it a deep rooted faith in the hearts and minds of people of this region. This is one of the reasons that this ancient tradition and festival has not lost any of its sheen.
Customs and Traditions
Throughout the 18 days of festivities, newlywed girls observe fast for the entire course of the festival and are allowed to eat only one meal every day. The same trend is followed by unmarried girls as well. Before the festival commences, idols of Gana and Gauri are prepared with clay. Some Rajput clans use ancestral wooden statues of the deities, which are painted afresh every year. Mehandi designs that women draw on their hands and feet during this festival is another interesting facet of this festival. These designs represent sun, moon, floral patterns etc.
A small lamp (diya) is placed inside ghudlias, which are clay pots with several holes on its walls. Single women and young girls carry it on their heads in the evenings while singing songs and take a round of their locality. People handout small presents of cash, sweets, jaggery, ghee, and oil etc. to the girls. These processions start on the 7th day after Holi and end with the conclusion of Gangaur festival. On the last day of the festival, the idols of Gana and Gaur are decked in new clothes as well as ornaments by women and then submerged in a pond or river.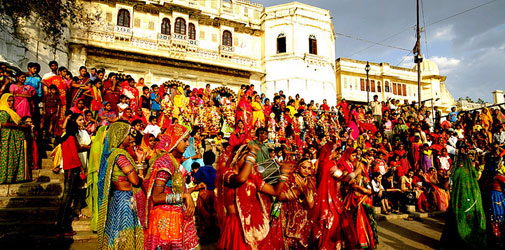 Processions are carried out across Rajasthan with great pomp and show during this festival. The extravagant and colorful processions seem like the arrival of the King to his state. The vibrancy of these processions is enthralling as beautifully ornamented and decorated camels, elephants, silver palanquins, chariots and folk artists participate with immense devotion and enthusiasm. These magnificent processions are an absolute delight to watch and experience.
Visitors from all over the world throng to Jaipur during this festival to participate and revel in its festivities. A special dessert, known as ghewar, is made to celebrate this festival and distributed among friends and family. In Jaipur, a spectacular procession is carried out from Zanani-Deodhi of the City Palace with the idol of Gauri, which passes through Tripolia Bazaar, Chhoti Chaupad, Gangauri Bazaar, and Chaugan Stadium. The streets are filled with people from all walks of life who come to pay homage to the goddess. The crowded streets are a sight to behold. The colorful images of this festival that bring a smile on one's face remain throughout life.