Venue: Bikaner, Rajasthan
Duration: Two days
Period: During the month of January
Significance: Commemorates marital bliss and love
Main Attractions: Cultural performances, camel shows, sports events, food fair, crafts market
Nearest Airport: Jodhpur Domestic Airport
Nearest Railway Station: Bikaner Railway Station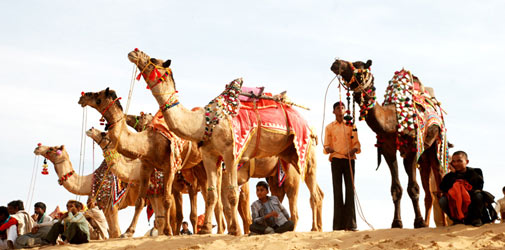 This festival celebrates the significance that camels have held and still hold in the everyday lives of people of Rajasthan state. These Ships of Desert, as camels are fondly referred to, are an integral part of this desert region. Although with the advent of modern means of transportation, people have become less dependent on camels, but this has not affected their love and attachment towards these adorable creatures. The vibrant and multihued Bikaner Festival celebrates this special bond that people of this region share with camels.
The festivities of Marwar Festival continue for two days during the month of January and various interesting events are organized during this period of time. Visitors from around the globe visit Bikaner to be a part of this festival. No one can remain a spectator, as, sooner or later, one is enticed into participating in one of the many amazing as well as fun activities organized here. These activities include camel races, tug of war contests, camel dances, camel milking contests and so forth. Become a part of this unforgettable adventure with a read through the following section.
History
The historic city of Bikaner is placed amidst the Thar Desert of Rajasthan. This city has been and still is the biggest camel breeding farm of India and Asia. The camels of this region are famous for their stamina as well as potency and grace across the world. An interesting fact worth mentioning is that the Bikaner army had an entire battalion of camel corps, known as the Ganga Risala, which participated in both the world wars. This unit remained a part of the Indian Army even after independence and took active part in the Indo-Pak wars. Till date, one can see camels on the streets of Bikaner pulling heavy loads and taking tourists on desert safaris. It is no wonder that the Department of Tourism, Art and Culture chose to conduct the Camel Festival annually in Bikaner.
Events
The city of Bikaner is known throughout the world as one of the best breeding grounds for superior camel breeds; hence, this festival is a marvelous opportunity for various breeders to compete and showcase their best camels. This splendid festival kick starts with a grand procession of ostentatiously decorated camels against the picturesque backdrop of the red sandstone studded Junagarh Fort. The procession heads for the open desert grounds in the outskirts of the city where various events are conducted. The camel pageant is one of most eye-catching activities organized on the first day of the festival. In this event, camels are judged as most beautiful based on their ornaments and other multicolored fabrics that they are adorned with.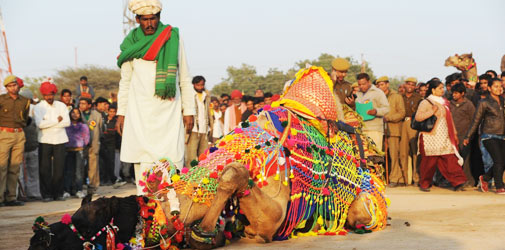 Many other wonderful competitions are also organized during the festivities, like contests for the best camel decorations, fur cutting design, camel milking, best camel hair cut, and camel races. Spectators are mesmerized by the graceful dancing performances and amazing footwork that these otherwise lanky looking creatures show here on the slightest directions of their masters. The tug-of-war organized between the visitors and locals is another wonderful way to connect with the natives and is thoroughly enjoyed by both international as well as domestic tourists. Embroidered bridles, ornamented necks, tinkling anklets and long shadows of camels and humans on the golden sands of Thar make the entire atmosphere spellbinding.
Cultural Performances
The evenings during the festival are marked with scintillating and exuberant cultural performances that include a mix of soul stirring Rajasthani melodies to electrified ghagra swirling dances. The various fire dances and stunning daredevil acrobatics performed here leave a visitor awestruck. Various entertaining puppet shows are also organized, which narrate intriguing tales of valor, love of the kings and queens of this region. On the last evening of the festival, a remarkable show of fireworks is organized that bedazzles the onlookers and lights up the city of Bikaner.
Food Fair
Bikaner Camel Festival is certainly a treat for any visitor's eyes, the riot of colors, bejeweled camels, interesting events and jubilant cultural performances leaves one craving for more. The delectable Rajasthani cuisines available here satiate not just the stomach but soul as well. A traveler can sample scrumptious tea and sweets made from camel milk; these delights are difficult to come across anywhere else, so eat up! Other than this, one can also try other traditional Rajasthani dishes as well, which include Dal-Bati-Churma, Besan-Chakki, Ghevar, Jhajariya etc.
How to Reach
Bikaner is one of the major cities of Rajasthan and there is a great influx of tourists, especially during the Camel Festival. The city is well linked with the rest of the state with the following modes of transportation.
By Air
The nearest airport to Bikaner is the domestic airport placed at Jodhpur, which is around 250 km from this city. One can hire a taxi from there to get to Bikaner, which costs around Rs 2000 for the journey.
By Train
Bikaner Railway Station is well connected with trains coming from Delhi, Jodhpur, Jaipur, Kalka, Howrah and Bhatinda.
By Road
Bikaner is well linked by a smooth network of roads with the rest of the state of Rajasthan. A number of government and private buses run between this city and Jodhpur, Agra, Ajmer, Ahmedabad, Jaipur, Jhunjhunu, Jaisalmer, Barmer, Udaipur and Kota.