The increase of economic growth in India has led to further comfort and availability of facilities to the common public. Further, ever-increasing number of domestic and international travelers has contributed to the enlargement of the aviation sector. With just one or two carriers in the initial phase, this sector has added a number of new private airlines under its cap in the recent years. While some of these airlines cater to the domestic sector solely, most others operate on both domestic and international routes. Further, due to the large number of airlines in the market, competition has increased manifold, with each one offering supreme luxury, utmost comfort and high convenience at affordable prices to suit the pocket of every traveler. The following sections brings forth some of the major domestic carriers operating in India.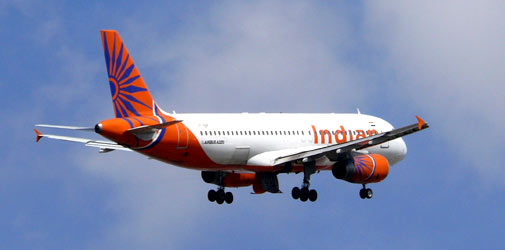 Indian Airlines
Indian Airlines is a government owned domestic airline. This oldest and largest domestic airline operating in India is based in Mumbai. After its merge with Air India, government owned international carrier, it covers a wide network of destinations across India. It operates regular flights to 58 destinations, with 50 of them being within India and 8 abroad. Major cities covered include Delhi, Bangalore, Mumbai, Kolkata, Chennai, Pune, Hyderabad, Lucknow, Goa, Ahmedabad, Allahabad, Ranchi, Bhubaneswar, and others.
Contact Details:
Air India Limited Reservations
Safdarjung Airport
Aurobindo Marg
New Delhi – 110003
Phone No.: 011-24622220
Website: http://www.airindia.com/
Air India Express
A subsidiary of Air India, this low-cost airline operates on routes from Kerala with Kochi as its main hub. Currently, it serves 13 international destinations and nine Indian cities. These include Mumbai, Kochi, Kozhikode, Chennai, Delhi, Pune, Tiruchirapalli, Thiruvananthapuram, and Mangalore.
Contact Details:
Air India Building
Nariman Point
Mumbai – 400021
Phone No.: 022-22796330
Website: http://www.airindiaexpress.in/
Jet Airways
Jet is a privately owned airline, having the highest market share of Indian domestic traffic, based in Mumbai. With economical air fares, high quality service and reliable and comfortable operations, it is fast emerging as a world-class international carrier. With an array of check-in options and in-flight entertainment, it ensures comfort at the topmost level. Jet Airways covers 22 international destinations and 52 domestic cities. Delhi, Bangalore, Mumbai, Goa, Ahmedabad, Chennai, Pune, Kolkata, Thiruvananthapuram, Varanasi, Visakhapatnam, Mangalore, Jaipur, Hyderabad, Guwahati, Bhopal, Bhubaneswar, Lucknow, Kochi, Coimbatore, and Ranchi are some destinations Jet Airways flies to within India. For low cost travelers, it offers services on Jetlite Airlines (previously known as Air Sahara) and Jet Airways Konnect without compromising on the flying experience.
Contact Details:
Jet Airways (India) Limited
Siroya Centre
Sahar Airport Road
Andheri (East)
Mumbai – 400099
Phone No.: 022-61211000
Website: http://www.jetairways.com/
GoAir
GoAir is a low cost carrier owned and promoted by The Wadia Group, with its primary hub as Mumbai. It flies to 22 key destinations across India, such as Mumbai, Chennai, Bangalore, Kolkata, Pune, Goa, Ahmedabad, Chandigarh, Jaipur, Lucknow, and Ranchi. It also covers remote areas like Jammu, Srinagar, Leh, Port Blair and Guwahati.
Contact Details:
Go Airlines (India) Ltd
1st Floor, C-1, Wadia International Centre (WIC)
Pandurang Budhkar Marg
Worli, Mumbai – 400025
Phone No.: 022-67410000
Website: http://www.goair.in/
IndiGo Airlines
IndiGo Airlines is a subsidiary of InterGlobe Enterprises. It is a rather new and a private domestic airline based in Gurgaon, Haryana, though its main operational base is at Indira Gandhi International Airport, New Delhi. Flying to over 26 domestic destinations and 5 international cities, it is considered to be the cheapest private airline. Top destinations in the domestic sector are Delhi, Jaipur, Srinagar, Jammu, Hyderabad, Mumbai, Pune, Bangalore, Coimbatore, Chennai, Thiruvananthapuram, Patna, Indore, Nagpur, Lucknow and Kolkata.
Contact Details:
IndiGo
Level 1, Tower C, Global Business Park
Mehrauli-Gurgaon Road
Gurgaon – 122002
Phone No.: 0124-4352500
Website: http://book.goindigo.in/
Kingfisher Airlines
Another Bangalore based airline, Kingfisher Airlines operates only on domestic routes. Owned by Vijay Mallya, a renowned liquor baron in India, this carrier is regarded as one of the finest luxury airlines in the domestic sector. Besides connecting major cities of India, it flies to some unique destinations, not covered by any other airline. These include Hubli, Shimla, and Dharamshala. Kingfisher Airlines covers over 24 business and leisure destinations in India, such as Delhi, Mumbai, Hyderabad, Bangalore, Chennai, Goa, Pune, Patna, Kolkata, and others.
Contact Details:
Kingfisher Airlines Limited
12th Floor, UB Tower
UB City
No. 24 Vital Mallya Road
Bangalore – 560001 Phone No.: 1 800 200 9000
Website: http://www.flykingfisher.com/
Paramount Airways
Based in Madurai, Paramount Airways mainly operates New Generation Embraer aircraft. Deemed to be the only airline to offer full business class service at prices equivalent to normal economy airfare, Paramount Airways offer utmost comfort and convenience. It flies to key destinations in South India, like Chennai, Coimbatore, Bangalore, Kochi, Madurai, Hyderabad and Thiruvananthapuram.
Contact Details:
Paramount Airways (P) Ltd
Alexander Square
35, Sardar Patel Road
Guindy
Chennai – 600032
Phone No.: 044-43909090
Website: http://www.paramountairways.com/
SpiceJet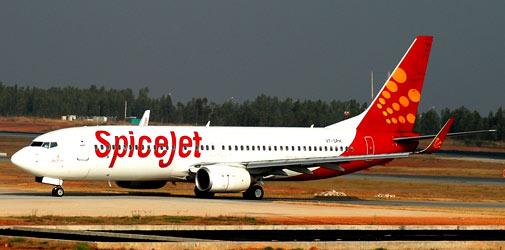 SpiceJet is a Gurgaon based low cost carrier with its operational hubs at Indira Gandhi International Airport (New Delhi) and Rajiv Gandhi International Airport (Hyderabad). With fares that are affordable and lower than most other airlines, SpiceJet provides a comfortable and high-performance flying experience. It has its reach to 35 domestic cities and 2 international destinations. The top inland places include Delhi, Hyderabad, Mumbai, Chennai, Kolkata, Bangalore, Kochi, Pune and Ahmedabad.
Contact Details:
SpiceJet Ltd
319, Udyog Vihar
Phase IV
Gurgaon 122016
Phone No.: 0987 180 3333
Website: http://www.spicejet.com/