Teej Festival in Rajasthan
Venue: Celebrated throughout Rajasthan
Duration: Two days
Time Period: Between the months of July-August
Significance: Celebrates the advent of monsoon
Main Attractions: Cultural fairs, grand processions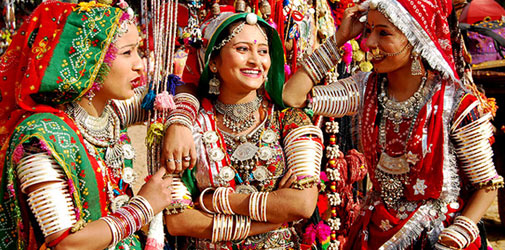 The Teej Festival is celebrated with great zeal and fervor throughout Rajasthan. The festival is celebrated in the months of July-August and is also known as the "Sawan Festival", which means festival of spring season. To mark this occasion, beautifully decorated swings are fastened on the trees and women take joy rides on them. The festival has religious importance as well, as it is dedicated to Goddess Parvati. Women from all over Rajasthan, irrespective of their caste or creed, adhere to the rituals and customs of this festival with complete devotion. Other than the arrival of monsoons, the festival commemorates the unison between Lord Shiva and his soul mate, Goddess Parvati. The festival is observed by both married as well as single women. It believed that women who observe this festival are blessed by the Goddess with a blissful married life as well as wellbeing of their husbands, whereas single women get loving and caring husbands.
Legend
The Teej Festival celebrates the pious relationship of a husband and wife. The festival has its roots imbedded in the Hindu mythology and places great emphasis on a wife's dedication towards her husband. According to the legend behind the beginning of this festival, Goddess Parvati did hard penance for 108 lifetimes on earth to attain Lord Shiva as her husband. After this show of utmost sacrifice, she attained divinity and was accepted by Lord Shiva as his eternal consort. On the day, the Goddess was reunited with Shiva, she declared that whosoever invoked her on this day will be blessed with a happy married life. Hence, this day came to be celebrated as Teej Festival.
Customs and Rituals
The two-day long Teej Festival is mainly a women oriented fiesta and is celebrated by them with great devotion across Rajasthan. According to the customs, during this festival, married women return to their maternal homes to celebrate the Teej Festival there. Married and engaged women receive various gifts like clothes and jewelry from their parent-in-laws and would be parent-in-laws to commemorate this pious occasion.
During the course of the festival, women dress in festive colors like pink, red and green, which are considered auspicious in Hindus and wear traditional gold and diamond jewelry. Drawing intricate designs of mehandi and alta to decorate their hands and feet is also an integral part of this festival. Women worship Vat Vriksha during the festival and tie swings to its branches, sing and dance while enjoying the first rains of the season. Before the commencement of the festival, the idol of Goddess Parvati is adorned with rich silk cloth and heavy jewelry.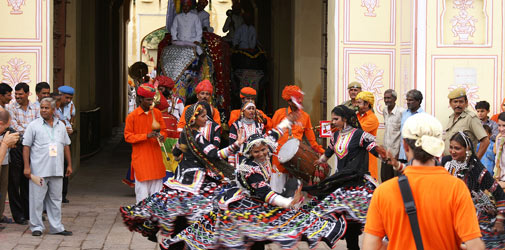 During the festival, women gather at temples or parks where prayers are organized and sit in semi-circle together, after which they place the idol of Goddess Parvati in the middle. The priest or an elderly lady narrates the holy story of Teej, known as the Teej Katha. Listening to this tale is an important ritual of this festival. Another difficult yet important part of the festival is the 24 hour fast that women observe to please the goddess. During this fast, women abstain from consuming all eatable items, including water, and pray for long lives of their husbands.
Celebrations
The Teej Festival brings with it lots of gala celebrations throughout Rajasthan. Markets are decorated with long colorful streamers and other decoratives. Women start shopping for new attires and ornaments weeks before the Teej. Various Teej fairs are organized in different cities of Rajasthan. These fairs become a hub of fun-filled activities for locals and tourists as well. One of the biggest Teej fairs is held at Jaipur, where one can watch interesting cultural performances and shop for intriguing handicrafts from numerous stalls.
The magnificent procession that carries the bejeweled idol of Goddess Parvati on a beautifully bedecked palanquin is organized across various cities. Thousands of spectators and devotees gather on the streets to pay homage to the Goddess. The procession is accompanied by numerous singers, dancers, and musicians, along with ornamented elephants, bullock carts and chariots. The procession is a spectacular extravaganza of fascinating culture and heritage of Rajasthan. The locals and visitors alike join the performers in the devotional ecstasy; such is the electrified mood of these processions.