There is no single cuisine in India. Similar to the culture of India, the Indian cuisine is also extremely diverse. Right from Punjabi to Chettinad to Gujarati to Sikkimese, Indian food consists of a number of different cuisines, originating in every region. Most of the Indian delicacies have a liberal usage of spices. Also, there is a wide usage of an exotic range of vegetables. Within these basic similarities, there is diversity in the local styles as well. With such an amalgamation of delights and dishes found across India, there is food to suit the taste and preferences of every type of traveler visiting India. Read further to know about the different kinds of traditional food available in India to dig into.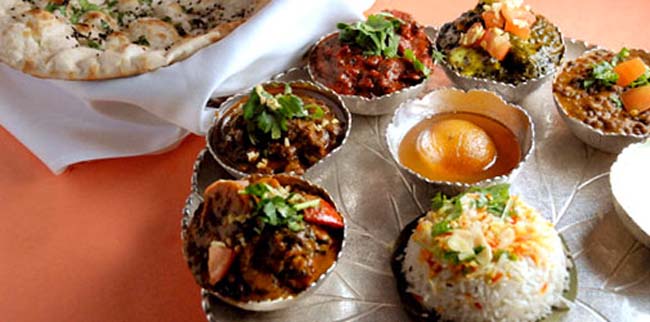 North Indian Cuisines
Wheat is the staple crop in the kitchens of North Indians. The traditional main course usually comprises of chapattis or rotis, accompanied with dal, vegetables, and yogurt. Rice also forms a major portion but it is sparsely used. Side dishes like chutneys (preserves) and achar (pickle) are used in large quantities. Use of milk and other dairy products is huge in the daily routine. Milk, curd, ghee (clarified butter), butter and paneer (cottage cheese) are the most commonly used products for preparing mouthwatering dishes, when blended with the right number and amount of spices. Besides the vegetarian delights, North Indians crave for non-vegetarian food also. Largely inspired from the Mughlai cuisines, there is a wide range of meat dishes to try out. Served along with the savories is the roti (traditional wheat bread) or naan (leavened, oven-baked flatbread). The chewy and carby naan comes in different varieties, such as butter naan, garlic naan, Peshawari naan (stuffed with nuts and raisins), keema naan (stuffed with minced meat), Amritsari naan (stuffed with mashed potatoes, onions and spices), and so on. Some highly relished foods of North India include chole bhature, tandoori chicken, palak paneer, biryani, makki di roti, sarson ka saag, and dum aloo. To finish off the main course, this region offers a wide spectrum of deserts to pamper your taste buds. Gajar ka halwa, sooji halwa, kheer, kulfi falooda, and petha are some lip-smacking delights to end a meal. If one is dying to taste delicious and authentic Mughlai food, the best eateries are Karim's Mughal Palace, Al Kakori, Zaika, Bukhara and The Great Kabab Factory in Delhi. For an amazing taste of vegetarian food, Punjabi By Nature, The Vega Restaurant, Royal Treat, and Dhaba are the best picks. Other must-try restaurants in North India include Punjabi Dhaba (Amritsar), Surjeet Food Plaza (Amritsar), Copper Chimney (Chandigarh), Makhan (Amritsar), and Mehfil (Chandigarh).
South Indian Delicacies
South Indian food is largely dominated by rice and various savories made from rice. Coconut is one of the main ingredients used in almost all delicacies, be it in the form of dried grated, oil, milk or fresh chunks, which enhances the flavor and aroma of the preparation so cooked up. A typical traditional South Indian platter consists of rice, served with sambar, rasam, yogurt, pickles, and two different styles of veggie delights. In comparison to the North Indian food, South India makes less use of spices and oil; thus, making the food light and easily digestible. Some popular South Indian dishes include upma, idli, dosa, vada, appam, and uttapam. Being situated along the coast, most South Indians consume fish and other forms of sea food as well. Chicken 65, mathri, fish moolie, different types of kozhambu (made with fish / chicken / meat), and biryani are some commonly eaten non-vegetarian dishes. For desserts, people usually prefer bingeing into payasam, double ka meetha, Mysore pak, unni appam, kattu pongal, kesari pedha, and rava laddoo. For a dig into traditional and finger-licking South Indian food, one can step into Aromas of South (Bangalore), Oyster Bay (Bangalore), South Indies (Bangalore), Dakshin (Chennai), Saravana Bhavan (Chennai), Southern Spice (Hyderabad), Annalakshmi (Chennai), and Frys Village Restaurant (Kochi).
East Indian Delights
The East Indians are rather more inclined towards food with a touch of sweetness. The main course dishes revolve around rice and most dishes are prepared in mustard oil. Fish constitutes a major part of the daily diet of people residing along the coast. Some of the most popularly consumed preparations in the East include machha jhola (fish curry), momos, thukpa, sael roti, and other savories made from fish. Food is considered to be incomplete in this region if one is not served with desserts, as they make a compulsory add-on on any menu. The top picks among the desserts are shondesh, roshogolla, mishti doi, chhena poda, malpua, pithe, and rajbhog. Some famous eating joints to get a flavor of traditional East Indian food are Glenary's (Darjeeling), China Garden Restaurant (Kalimpong), Nizams (Kolkata), Roll House (Gangtok), Radhuni (Kolkata), Campari (Kolkata), Saffron (Kolkata) and Sapphire (Kolkata).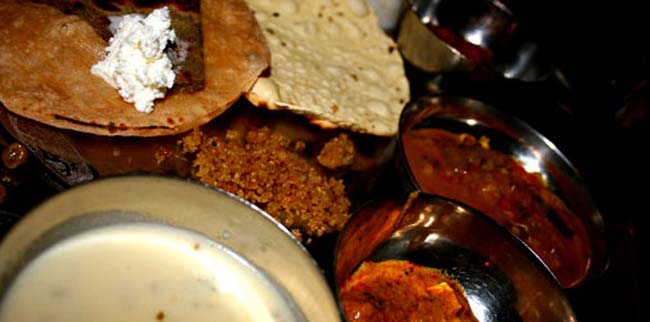 West Indian Dishes
The western part of India offers a wide gamut of delectable and irresistible delights to splurge on. Right from the slight sweetness of Gujarati food to the rich Rajasthani delights to the peppery Maharashtrian delicacies, there is food for everyone. The staple food differs from state to state. While a Gujarati thali may comprise of almost 10 different kinds of vegetable preparations, Rajasthani food boasts of chutneys and pickles, due the scarcity of vegetables. Some notable foods of West India constitute vada pav, pav bhaji, daal baati churma, dhokla, poha, pooran poli, chivda, khakhra, khandvi, pani puri, and puri bhaji. To top off the meals with a sweet tooth, people love to relish modak, jalebi, ghevar, basundi, sukhdi, sohan papdi, shrikhand, and ghooghra. Diva Maharashtracha (Mumbai), Kshanbhar Vishranti (Mumbai), Chahul Garden Restaurant (Pune), Hotel Shreyas (Pune), Gopi Dining Hall (Ahmedabad), Kansaar (Vadodara), Mirch Masala (Ahmedabad), Bukhara Woodland Restaurant (Rajkot), Geeta Lodge (Junagadh) and Dreamland (Gondal) are some of the best places to taste traditional food.