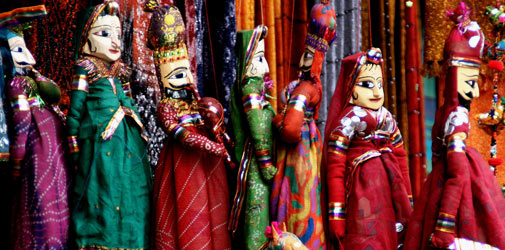 Rich cultural traditions and lifestyle have made Rajasthan a must visit destination for travelers throughout the globe. Its artistic traditions and customs are deeply connected with ancient Indian civilization, which makes its culture a unique mix of ancient and modern sensibilities. The harsh desert terrain, glorious history and colorful lifestyle of its ever smiling people have played a significant role in making Rajasthan's cultural heritage so rich and attention-grabbing. A visitor is enriched by the vibrant culture of this state that pulsates through its every aspect right from the multihued attire of the people to their twinkling ornaments. The opulent palaces, magnificent havelis, and spirited and vibrant fairs and festivals are an integral part of Rajasthan's cultural legacy that allures tourists from around the globe.
The true strength of this state's culture burns bright in the hearts of its people not from today but from time beyond records. Their zeal and enthusiasm to live life to its fullest has made their day-to-day activities also seem like a celebration. Various festivals, big or small, are celebrated with great exuberance here. Simple cattle markets have transformed into huge fairs that paint the entire state of Rajasthan in enchanted colors of joy and good cheer. When the first rains of monsoon hit this parched desert land, the entire state comes alive to celebrate this occasion with great festivities and lavish feasts.
Though Rajasthan is predominantly a Hindu majority state but other religions like Islam, Jainism, Sikhism and Christianity also thrive in the congenial environment of this state. Rajasthani and Marwari are the major native languages spoken in this region; however, Hindi is understood by most people and is the official language of the state. The resplendent culture of Rajasthan is well represented in its ostentatious architectural style that can be seen in the grand structures of different historical monuments like palaces, forts and havelis. The traditional craftsmanship of this state that one can see in its intricate and ingenious embroidery work is exclusive and fascinating, incomparable to anything around the world.
The hand done exquisite work of block printing, Zari, Bagaru, Tie and Die, Sanganer have become quite a rage among national as well as international celebrities and designers, which has led to the export of many of these handicrafts all over the world. Rajasthan is also world renowned for its impressive and unique Kundan as well as gold jewelry. Other than these products, the multicolored Bandhni saris are also a wonderful specimen of this multihued culture that one can take along as a reminiscence of this refulgent state and its welcoming culture.