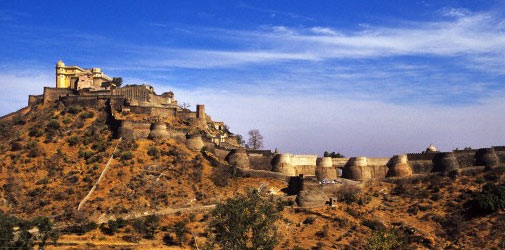 The splendid and imposing forts of Rajasthan are a sight to behold and cherish for lifelong; hence, are major tourist attractions of this region. Though silent witnesses, these forts provide one a rare glimpse into the resplendent history and culture of this state. A tour of these grand forts transcends one into the era of the brave Rajput Kings and the kind of opulent lives that they lived. Many of the famous forts of this state are architectural masterpieces that depict the intricate and ingenious architectural style of Rajasthan. The ethereal charm of these forts is spellbinding and makes them a must-visit destination for all those planning to tour Rajasthan.
Kishangarh Fort is one such favorite tourist spot. This humungous citadel was built in the city of Ajmer in the year 1653, by Maharaja Roop Singh. This massive fort houses great murals and paintings that are, in themselves, creative gems of a bygone era. Other than this fortress, Amber Fort is another marvelous specimen of the finesse of the Rajput architectural style. This refulgent fort is placed 11 km, from the capital city of Jaipur, and is visited by innumerable tourists every year, as the fort still has its yesteryears' sheen intact. Jaigarh Fort is a splendid citadel located on the outskirts of Jaipur at a whooping height of 400 feet above Amber Fort, which makes it a great vintage point to catch a bird's eye view of Jaipur city.
Jaisalmer Fort is another preferred destination in Rajasthan, placed deep in the belly of the silvery Thar Desert. It is considered as one of the biggest desert fortress on our planet and is believed to be almost 800 years old. Jodhpur is another city which houses some magnificent forts, such as Mehrangarh Fort, constructed on an undulating hill at an approximate height of 400 ft above level, and Rohetgarh Fort, now converted into a heritage hotel, which offers a taste of royalty and warm Rajasthani hospitality. Kumbhalgarh Fort of Udaipur is another vintage monument, without which any trip to Rajasthan shall remain incomplete.
Kishangarh Fort
The Kishangarh Fort in Ajmer is an imposing structure that was built in the year 1653. Maharaja Roop Singh built the massive Kishangarh Fort. It is said that an incident he saw once inspired him to get a fort built.
Amber Fort
Located at a distance of 11 kilometers from Jaipur, the Amber Fort in Rajasthan is a major tourist attraction. The Amber fort in Jaipur is a classic example of the Architectural style of the Rajputs.
Jaigarh Fort
The Jaigarh Fort of Rajasthan is located at a distance of around 15 kilometers from the center of Jaipur. It is situated 400 feet above the Amber Fort. The Jaigarh Fort in Jaipur is also known as the Fort of Victory.
Jaisalmer Fort
Situated deep inside the Thar Desert is the majestic Jaisalmer Fort of Rajasthan. It is supposed to be one of the biggest desert forts in the world. The magnificent Jaisalmer Fort is said to be around 800 years old.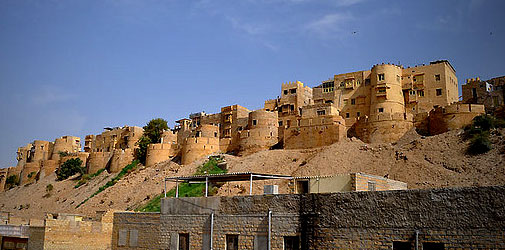 Mehrangarh Fort
One of the largest forts of India, the Mehrangarh Fort in Jodhpur is an imposing structure with massive walls that stand undeterred till today. Situated at a staggering height of around 400 feet on a high undulating hill, Mehrangarh Fort in Rajasthan is truly an architectural wonder.
Rohetgarh Fort
The Rohetgarh Fort of Jodhpur is one of the prime tourist attractions of Rajasthan. Anyone visiting India should not miss this great fort that is now known as Rohetgarh heritage hotel.
Kumbhalgarh Fort
The Kumbhalgarh Fort of Udaipur is located at a distance of 64 kilometers from the heart of the city. It was built way back in the 15th century by Rana Kumbha. Kumbhalgarh Fort of Rajasthan is supposed to be the second most important fortress in Mewar after Chittorgarh Fort.