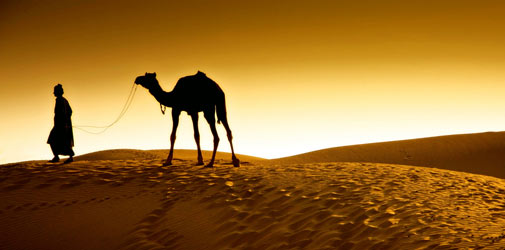 The vastness of the Thar Desert adds to the allure of vibrant and radiant Rajasthan. The mesmerizing sand dunes that shift their location with winds, the colorful caravans of people, and camels decked in beautiful ornaments and multi-hued attire that play haunting musical tunes and sing vivacious songs, along with various mesmerizing dances, make this otherwise barren land pulsate with life. The natural beauty of the Thar Desert, which is also known as the Great Indian Desert, can be enjoyed in the evenings when, under the rays of the setting sun, the desert sand shimmers like a milky way.
The Thar Desert is spread over an area of 200,000 sq km and is shared by India and Pakistan as their border. It is flanked by Indus Valley in the west, sprawling northern plains in the north, Rann of Kutch in its south, and the picturesque Aravali Mountains in the southeast, thus providing a perfect scenic backdrop. The glittering sand dunes, of various shapes and sizes, add further charm to the charisma of the Thar. One can never be sure of the way around the desert except for the local tribesmen, who live in these extreme conditions, as the foot trails keep vanishing under the fresh layers of sand. Some sand dunes rise to as high as 500 feet, which, in itself, is a sight to behold.
This region receives erratic rainfall that varies from 100 to 500 mm. The state of Rajasthan experiences monsoon during the months of July through September. Another unique feature of the Thar is the presence of small salty lakes that have popped up here and there. This desert is not completely devoid of vegetation; one can see some small shrubs and a few patchy trees keeping a watch over this sea of sand, such as Gum Arabic, euphorbia and Khajri trees. The wildlife of this region includes the illusive Black buck and Chinkara, which is a kind of rare gazelle. This region is home to many exciting bird species as well, like francolin, quail and great bustard. Various migratory birds, such as sand grouse, ducks, and geese can also be spotted in this area.
The arid desert of Rajasthan has its own unique charm and one can see a whole new aspect of the culture and traditions of this magical land. No visit to Rajasthan is complete if one has not explored and experienced the resplendent expanse of Thar Desert that offers a glimpse into the lives of nomadic desert dwellers, which is entirely different from the city life. Thar is a dream destination for people who want to leave behind all their worries and deadlines. Come immerse in the serenity and tranquility of this land of sands and smiles.