Camel Safari in Rajasthan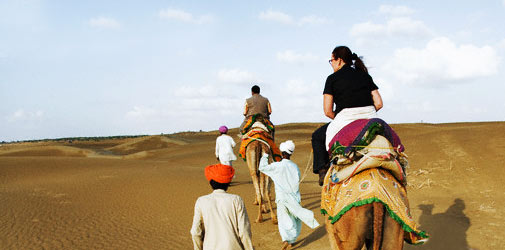 Rajasthan is an amazing ethereal state that has so many diversities engulfed in it self that one can never experience its true charm and charisma without connecting with its ethnic roots that run across its villages as well as thrive in its cities. However, to explore the golden sands of the Great Indian Desert, the camel safari is one of the best options. This is a unique enthralling experience which no visitor should miss out on. The ever vanishing and reforming sand dunes turn silvery in the star-lit nights. During these desert safaris, one can get a chance to interact and experience firsthand the warm hospitality of the simple yet lovely villagers of Rajasthan for whom even today a guest is no less than god.
To truly enjoy and soak in the beauty and culture of the Thar, it is advisable that one hires the local camel breeders as guides for a desert safari. These guides have grown up in the desert and can maneuver through it blindfolded, so there is no chance to lose the way and one is completely safe in the desert. The camel carts carry all the essential items on it that includes food, water, beddings, camping material etc. which are adequate to keep a visitor very comfortable through the desert. Visitors can also enjoy the occasional musical and dance performances that are held in the desert. The tranquilly and panoramic beauty of the Thar is a perfect place to do some soul searching and get one's priorities right in life.
Other than the desert camel safaris, the elephant safari is one of the most regal ways to see Rajasthan, especially around the principal towns like Jaipur, Jodhpur etc. During these safaris, one can sit comfortably in a howdah, is a large cushioned seat on elephant's back, and be protected from the sun's heat by ornamented umbrellas attached to these howdahs. Elephant safaris are also a great way to view the wildlife in various wildlife sanctuaries of the state. If one is running short on time, then a wonderful way to save time is to go for jeep safaris, particularly to explore the splendid flora and fauna of the national parks as well as forest reserves of this region. The rugged terrain of the Aravali Hills is best accessible on a horse back that transcends one back to the time of the brave Rajput warriors who fought various battles in this region against Mughal armies.