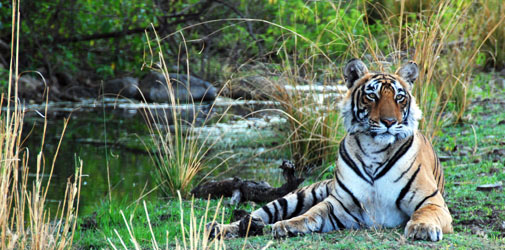 The magnificent wildlife sanctuaries and national parks add vibrancy in the already lively and multihued state of Rajasthan. Most people perceive this region to be predominantly arid but they couldn't be more wrong, though the Thar Desert covers much of its surface, yet there are pristine green forests in some areas of the state. The fascinating state of Rajasthan is home to some of the most well-known wildlife sanctuaries in India. These wildlife sanctuaries are inhabited by a thriving and varied range of wildlife species that draw large numbers of domestic as well as international tourists throughout the year. This makes Rajasthan one of the few tourist spots where one can enjoy sun, sand and luscious forests, all in one go.
A vast range of flora and fauna strive in the varied topography of Rajasthan. The deserts are a perfect breeding ground for reptiles that flourish here, whereas the jagged terrain of Aravali Mountains and the wetlands support thick forest growth that, in turn, shelters many bird and animal species. Some of the most easily spotted animal species here are deer, tigers, panthers, leopards, reptiles, boars, bisons, monkeys, wolves and foxes. Other than animals, there is no dearth of colorful and exotic bird species that make the entire environment of these sanctuaries musical with their melodious chirping. These natural preserves give visitors a chance to view the wildlife in its natural environment through options of various wildlife safaris which are conducted on jeep, horseback or elephant backs.
The four most famous and visited wildlife sanctuaries of Rajasthan are Ranthambore National Park, Desert National Park, Sariska Wildlife Sanctuary and Bharatpur Bird Sanctuary. These natural preserves are world renowned for their stable and growing tiger population, which, until recently, was dwindling alarmingly. The sanctuaries are thronged by various wildlife enthusiasts and photographers who want to catch this majestic animal in their cameras. Other than tigers, these sanctuaries are a bird watcher's delight, especially Bharatpur Bird Sanctuary that is a safe haven for more than 364 bird species. These sanctuaries are easily accessible for visitors due the wonderful road network that connects all corners of Rajasthan with each other and other major parts of the country. Come, experience a hassle free vacation in the tranquil yet vibrant surroundings of these natural reserves!
Desert National Park
The Desert National Park of Jaisalmer is situated in the heart of the Thar Desert that is sprawled across Rajasthan. The Desert national park provides an ideal picture of the ecosystem of a desert and shows the rich and diverse flora and fauna of an arid desert.
Ranthambore National Park
The Ranthambore National Park of Rajasthan is located in Sawai Madhopur. Considered as one of the best wildlife reserves of India, Ranthambore National Park is the most filmed national parks of all. It is situated in Eastern Rajasthan at the converging point of Aravali Range and Vindhya Range
Bharatpur Bird Sanctuary
Bharatpur Bird Sanctuary One of the most famous bird sanctuaries in India, Bharatpur bird sanctuary in Rajasthan should be one of the topmost priorities on your travel itinerary. Bharatpur bird sanctuary is the only sanctuary that is man-made.
Sariska National Park
The Sariska National Park in Rajasthan is one of the most visited national parks in India. It can be reached easily from anywhere in Rajasthan and also from nearby places like Delhi.