Ranthambore National Park
Location: Sawai Madhopur, Rajasthan
Temperature: Summer: 32-45 oC; Winter: 5-28 oC
Best Time to Visit: October to March
Distances: 157 km from Jaipur, 417 km from Delhi, 657 km from Ahmedabad, 828 km from Nagpur, 1219 km from Ranchi
Nearest Airport: Sanganer International Airport (Jaipur)
Nearest Railway Station: Sawai Madhopur Railway Station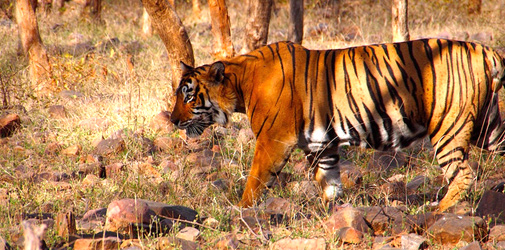 The picturesque Ranthambore National Park is a dream come true for nature and wildlife enthusiasts. Visitors from across the globe throng to this sanctuary, allured by its star inhabitants – the majestic Tigers. It indeed is one of the most remarkable and successful tiger reserves of India. These regal creatures can quite easily be spotted venturing freely in their natural habitat. Precisely, for this reason, Ranthambore is considered the most filmed wildlife sanctuary around the globe. Ranthambore National Park was declared a safe haven for wildlife in 1955 and was initiated into Project Tiger in 1973.
This tranquil park is placed in Sawai Madhopur district of Rajasthan which is pristinely nestled between the Aravali and Vindhya mountain ranges. The sanctuary is spread over an area of 400 sq km and its outer boundary is not much far from the indomitable Thar Desert. The varied and intriguing topography of the park supports a wide range of animals, like jackal, mongoose, sloth bear, leopard, and tiger. The park also consists of interesting flora and its lush greenery makes one forget that it is located in the arid lands of Rajasthan. Visit this park to soak in its splendid environment and experience nature up close and personal.
Tourist Attractions
There is no dearth of wondrous tourist attractions within the premises of the park, right from its multihued flora and fauna to various historical monuments.
Flora and Fauna
Though this park is much smaller in area when compared to various other natural reserves of the country, it envelopes, in itself, many varied and fascinating wildlife species. These include 300 species of trees, 50 aquatic plants, 272 bird species, 12 reptiles which includes the Marsh Crocodile and 30 species of mammals. The magnificent landscape of the park is decked with ancient Banyan Trees, Dhok and Pipal trees, along with large mango groves.
Ranthambore Fort
The imposing and impressive Ranthambore Fort looms over the National Park and greatly enhances its scenic beauty. This splendid fort was founded by Nagil Jats in 944. The fort rises almost 700 feet above the surrounding plains. The wildlife sanctuary served as private hunting grounds for the Maharajahs of Jaipur who occasionally visited this fort before Indian independence. The fort complex houses two elegant temples dedicated to Lord Shiva and Ganesha.
Bakula
The Bakula region of Ranthambore National Park is one of the greenest zones of the sanctuary and is dotted with various sparkling pools and water holes. It is one of the best locations in the park for visitors to observe wildlife at close range. One can even spot tigresses, accompanied by their young cubs, at these water holes. The dense forests of Bakula are an enthralling site for one and all.
Jogi Mahal
Jogi Mahal is a must see place located in the mesmerizing Ranthambore. This is a delightful historic guesthouse equipped with modern amenities for the comfort and convenience of visitors. This marvelous structure was built as a hunting lodge for the royal family of Jaipur. One can see panoramic views of the national park from the Mahal. Also, it is a wonderful place to relax after a long day of sightseeing in the park.
Take a safari ride through Kachida Valley, located in the border lands of the wildlife sanctuary. The valley is dominated by rugged topography and is the best place to spot panthers who hunt in these grounds. Panthers do not venture in the thickly forested inner regions of the park to avoid confrontation with tigers. One can also spot a good number of bears here.
Nearby Attractions
There are many interesting and exciting tourist locations spread around Sawai Madhopur which should not be missed out on, while visiting Ranthambore National Park. Surwal Lake is a serene natural seasonal lake situated 14 km from Sawai Madhopur between vast expanses of lush green agricultural farms. It is a hub of various migratory birds like painted storks, flamingoes, spoonbills, sarus cranes etc. Mansarovar Lake, placed in the outskirts of Ranthambore, is another great place for bird watching.
Besides these places, Devpura, situated around 14 km from Sawai Madhopur, is a wonderful place near Surwal villages. One can easily spot black bucks here, which cannot be seen inside the national park since these creatures prefer open spaces. Rameshwaram, located 50 km from Sawai Madhopur at the convergence of Chambal and Banas rivers, is another must see site of the region. One can see a large number of vibrant migratory birds here, along with crocodiles, alligators, the endangered river dolphins, and many other animal species. En-route to Rameshwaram, do not forget to visit the majestic Khandar Fort and various fascinating temples that one comes across during the journey.
Things / Activities to Do
The best and foremost thing to do at Ranthambore National Park is to take a hold of cameras and handicams and capture the rare and priceless moments spent here amidst nature. Watch the majestic tigers at close proximity during the jungle safaris. One can choose between a 20 seater truck and jeep to explore the spectacular flora and fauna of the park. Another mindboggling adventurous activity to indulge in is hot air ballooning. The panoramic vistas of Ranthambore seen from the sky are absolutely breathtaking. Suspended in mid air, one can click some memorable photographs of the pristine landscape down.
How to Reach
Ranthambore National Park is one the major tourist attraction of the region; hence, is well connected by the following means of transportation.
By Air
Sanganer Airport is the closest airport to Ranthambore and is placed at a distance of about 180 km from it. One can hire a taxi from here to reach this site. The journey will cost around Rs 3500. Jaipur airport has daily flight connectivity with Delhi as well as Mumbai.
By Train
The nearest railway station to Ranthambore is placed at Sawai Madhopur which is around 11 km from it. This station is connected with a broad gauge track between Delhi and Mumbai. Thus, it is linked with all major cities of India. One can hire a tourist taxi from the station to the park, at a charge of around Rs 200.
By Road
Like most places in Rajasthan, Ranthambore is well linked with excellent road network to its neighboring cities and rest of the country. Public as well as private buses ply regularly between Ranthambore and Jaipur, Pushkar and Ajmer. One can also get tourist buses for as far as Delhi and Agra.
Timings and Entry Fee
This fabulous wildlife sanctuary remains closed for visitors from July 1st to September 30th. Entry to the park is free of cost, though one is charged Rs 400 for the use of video camera. However, Indian nationals are required to show photo-id proof (passport, driving license, etc.) while booking a slot to enter the park. Foreigners should carry their passport for identification. Visiting timings to the park vary from month to month as mentioned below:
Oct 1-Oct 31: 6.30 am – 10.00 am and 2.30 pm – 6.00 pm
Nov 1 – Jan 31: 7.00 am – 10.30 am and 2.00 pm – 5.30 pm
Feb 1 – Mar 31: 6.30 am – 10.00 am and 2.30 pm – 6.00 pm
Apr 1 – May 15: 6.00 am – 9.30 am and 3.00 pm – 6.30 pm
May16 – Jun 30: 6.00 am – 9.30 am and 3.30 pm – 7.00 pm
Contact Information
Deputy Field Director and Deputy Conservator of Forests
Phone: +91 7462 220479
E-mail: dcfrtr@yahoo.com