Location: Jaisalmer, Rajasthan
Temperature: Summer: 25-42 oC; Winter: 7-24 oC
Best Time to Visit: October to March
Distances: 330 km from Bikaner, 440 km from Ajmer, 562 km from Ahmedabad, 570 km from Jaipur, 575 km from Udaipur, 645 km from Baroda, 800 km from Delhi, 904 km from Indore, 1297 km from Pune
Nearest Airport: Jodhpur Domestic Airport
Nearest Railway Station: Jaisalmer Railway Station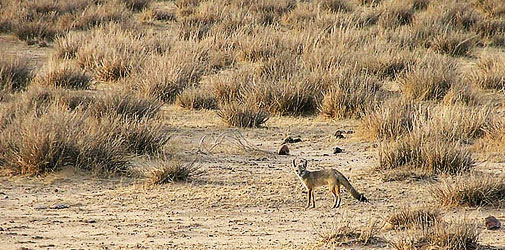 The desert state of Rajasthan is, in itself, a nature's paradox. Most visitors, who expect to only see extensive arid land throughout the state, instead are pleasantly surprised to see that this land supports a thriving wildlife as well. A visit to the Desert National Park at Jaisalmer is definitely an eye-opener. This wildlife preserve introduces one to rare and colorful flora as well as fauna that thrive in the Thar Desert. The diverse wildlife present in this national park dispels all the notions that an arid region cannot house a flourishing wildlife. The Desert National Park is like an oasis situated around 45 km from the city of Jaisalmer and is placed close to India-Pakistan border. This intriguing wildlife sanctuary is spread in a staggering expanse of 3150 sq km and hence, is considered, in all probability, the largest national park of India.
This wonderful desert wildlife sanctuary was established in 1980 and engulfs a delicate desert ecosystem. 20 percent of the park's landscape is made up of weathered rocks, dense salt lake bottoms and extensive shifting as well as fixed sand dunes. Water is the most needed yet scarce element for the inhabitants of the park. Rajbaugh Lake, Milak Talao Lake and Padam Talao Lake are the three lakes that are major sources of water for the inhabitants of this natural preserve. Though predominantly sandy, a large part of the park is covered with sewan grass, aak shrub, khair, khejra and rohira trees. The park also houses an amazing collection of fossils of animals and plants that are over 180 million years old. This area has been a cradle of prehistoric life, as fossils of dinosaurs at least 6 million years old have been unearthed in this region. These all discoveries, compiled with enthralling wildlife and natural features, make the National Desert Park a must visit site for visitors.
Tourist Attractions
The spectacular wildlife supported by the Desert National Park is its main tourist attraction. The park is inhabited by no less than 40 species of reptiles which include Spiny-tailed Lizard, Russel's Viper, Saw-scaled Viper and Komodo Dagon. However, the main highlight is the incredible avian population of this park. Hundreds of permanent as well as migratory birds make this place a bird watcher's delight. Almost 120 species of vibrant birds paint the arid desert landscape in multihued shades.
The park is home to various rare species like the Indian Bustard and wintering MacQueen's Bustard. Birdwatchers from around the globe throng to get a glimpse of these large graceful birds. The chirping of these birds creates a melodious symphony that makes the entire place quite mesmerizing. Other exotic and rare birds that can be seen here are sand grouse, spotted eagles, gray partridges, shrikes, demoiselle crane, quails, peafowl bee-eaters, larks, eagles, harriers, falcons, orioles, warblers, babblers, buzzards, kestrel and vultures, among the exhaustive list of star residents.
The Desert National Park also provides shelter to various intriguing animal species, like blackbuck, chinkara, wolf, Indian fox, desert fox, hare and desert cat. The magnificent and elegant blackbuck as well as Chinkara can be seen leaping and prancing amidst the sand dunes. The waterholes in the park are a great place to spot various wildlife species at close quarter. One can also see the otherwise illusive and rarely spotted animals, such as Desert Fox, Common Fox, adaptable jackal and black-spotted Desert Cat at these water reservoirs.
Nearby Attractions
The Desert National Park has many other spectacular tourist hubs placed in its vicinity that should not be missed out on if one is at this exquisite wildlife sanctuary.
Gadsisar Lake
It is a marvelous rainwater conservatory that was built by Maharawal Gadsi in the 14th century and is surrounded by intricately carved petite temples. To reach this lake, one has to pass through a fascinating gateway made of yellow sandstone, known as Tilon-ki-Pol, which greatly accentuates the lake's natural beauty. This lake is home to various migratory birds, which makes it even more enthralling.
Sam Sand Dunes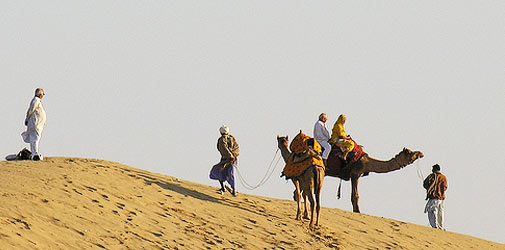 Sam Sand Dunes are located close near to the Desert National Park and are one of the most popular tourist sites around Jaisalmer. These dunes are an absolutely delightful and picturesque stretch of desert in the entire western Rajasthan. One can enjoy the wonderful views of sunrise and sunset from here. By spending a night here under the twinkling star-studded sky along with a desert safari group, one will truly be able to appreciate the natural sights and feel of this barren region.
The desert city of Jaisalmer is placed only 45 km from the national park. This city is a treasure trove of spellbinding sights, right from imposing and impressive golden Jaisalmer Fort to various ostentatious havelis. Patwon ki Haveli, Salam Singh-ki-Haveli, Nathmal-ki-Haveli and Haveli Shreenath – each of these opulent structures is absolutely a masterpiece of Rajasthani architecture. Other than these glorious mansions, visits can also be made to the striking Royal Palace of Jaisalmer. Elaborately carved Jain Temples and Laximinath Temple are some other magnificent tourist spots of the city.
Things / Activities to Do
The Desert National Park is a wondrous place to experience wildlife from close and personal. The park provides ideal conditions for wildlife photography and there are plenty of great vintage points for bird watching as well. The jeep safaris and overnight camps are a perfect way to soak in the tranquil and pristine environment of the park. However, one must, at all times, be cautious about not disturbing the delicate natural balance of this fragile ecosystem.
How to Reach
Desert National Park is a well known tourist hub around the city of Jaisalmer. One can easily hire chauffer driven private cabs to reach here. However, following are the most convenient modes of transportation to reach Jaisalmer.
By Air
The domestic airport of Jaisalmer is basically an Indian Air Force base and thus, opens for commercial flights only during the peak season, that is, from 1st October to end of March. It is located just 5 km from Jaisalmer. Other option that is available throughout the year is Jodhpur Domestic Airport, located 285 km from Jaisalmer. One can hire a pre-paid taxi from there to reach Jaisalmer.
By Train
Jaisalmer Railway Station is well connected by broad gauge railway line that links it with Jodhpur and rest of the country. It takes almost 6 hours for one to reach Jaisalmer via train from Jodhpur. The city of Jaisalmer can also be reached by the luxurious Palace-on-Wheels. This royal and lavish train makes a long stopover at Jaisalmer.
By Road
The city of Jaisalmer is linked with rest of Rajasthan and India with an excellent system of roadways. One can easily get deluxe AC or non AC buses to reach this city from Jodhpur, Jaipur, Barmer and Bikaner throughout the year. Another viable option is to hire a chauffeur driven car from any of the neighboring cities or even Delhi to reach this city. These cabs charge on per km per day basis.
Timings and Entry Fee
The park remains open for visitors throughout the year. The entrance fee is Rs 100 per person, while an additional fee of Rs 100 is charged for the entry of car or jeep inside the park premises and Rs 200 for heavier vehicles.