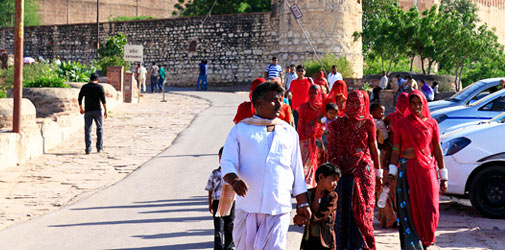 Though Rajasthan is world famous for its opulent monuments and colorful cultures, but all these are like body without a soul, if one counts out the zesty, courteous and brave people of this state, who, in true essence, represent the spirit of unity in diversity, that India is famous for. All travelers from the past till today, who have come in contact with the gracious people of Rajasthan, have not left without feeling the warmth and hospitality that its people have in their hearts for visitors and guests. This state is quite diverse demographically and according to the traditional system people, here, is classified on the basis of birth as well as occupation.
The 2001 census placed the population of this state around 56.5 million. At one time, the courageous sword wielding Rajput community was the dominant ruler of this state but at present, there numbers have shrunk greatly compared to the total populace of the state. However, they still remain the most influential section of Rajasthan society. Almost 88.8% of Rajasthan's total population constitutes of Hindus but that does not take anything away from the secular nature of the state which has displayed amazing communal unity. There are almost 8.5% Muslims while the rest of the population belongs to Sikh, Jain and Sindhi communities.
As far as Hindus are concerned, Brahmins are considered to be the most pious class among them, who perform all their religious rituals, which are a very important part of the Vedic belief system that the people of this state follow. Today, the castes of the people are based on the professions their forefathers followed; however, the present generation is free to follow the vocation of their own choice. The traders of the community are generally referred to as Marwaris. Other than these classes, the state of Rajasthan is home to various indigenous tribal communities as well that are further sub divided into various sub casts.
The Minas and Bhils are the two prominent schedule tribes of the region. The Minas are mainly placed in Jaipur, Sawai-Madhopur, and Udaipur districts, while the Bhil population is largely concentrated in the districts of Bhilwara, Dungarpur, Banswara, Chittaurgarh, Sirohi, and Udaipur. These tribal groups are highly skilled with bow and arrow, which makes them excellent marksmen and are quite well known throughout the region for their skills. The Banjaras and Moes are the nomadic desert traders, who are greatly responsible for the spread of multihued culture of Rajasthan to various parts of India. The incredible people of Rajasthan make this state irresistibly charming that infuses the feelings of visiting this state time and again in the heart of a visitor.