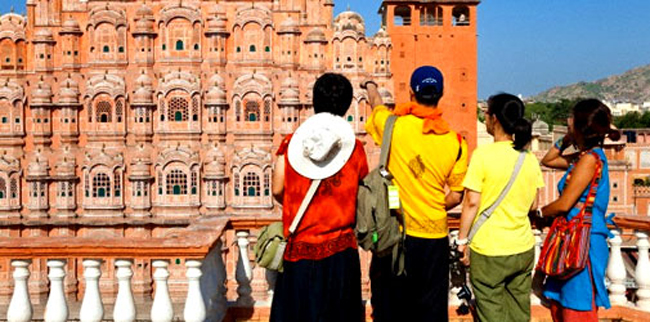 While traveling to any new destination, it becomes imperative to look decent and modest, lest you are mobbed by the locals. Particularly when it comes to a conservative society, picking the apt clothing is even more crucial. Though India has modernized itself to the standards of any foreign travel spot; however, escaping intruders is not possible all the time. As such, carrying the right kind of clothes is highly essential. As a suggestion, carry light luggage as both clothing as well as laundry is pretty cheap in India. Read on to know about the clothes to wear in India.
Indian summers are extremely hot. So, if you are planning to travel during the period of March through June, carry light clothes. Men can wear loose cotton shirts or T-shirts and baggy pants. In big cities and metros, like Delhi, Mumbai, Bangalore, Pune, etc. you can wear shorts and other Western-style clothes. However, women should dress conservatively. Short tops, short skirts / shorts, etc. should be avoided. You can wear cotton shirts or T-shirts, with cotton trousers or ankle length skirts. If you tend to develop skin allergy or heat burns, do not carry synthetics. Make sure that the clothes are not too tight or body revealing. These clothes can be easily purchased from the Indian markets at reasonable prices. If you want to try Indian clothing, then men can wear "kurta pyjama" while women can try "salwar-kameez".Winters (October to February) in India are stern and chilling, especially in North India. So, pack some woolen clothes with you. Also, keep some warm innerwear, particularly if you are planning to stroll around too much. During Monsoon (July to September), there is a high level of humidity in India. So, do not wear synthetic stuff. In this case also, cotton clothing is the best option.Additional Tips:
Wear full-sleeved clothes to protect yourself against suntan in the day and mosquito bites at night.
While traveling during summers, keep a sunscreen lotion in the luggage.
To avoid your feet from getting dirty and dusty, wear sturdy shoes.
If you would be traveling a lot, carry flat sandals instead of heels.
Keep a hat and sunglasses to ward off the sun during the scorching summers and an umbrella to withstand the rains in the monsoons.
One can don sleeveless tops if they are decent and will not turn heads.
If you are hitting coastal regions like Goa, carry your own swimwear as it may cost you plenty of greens while purchasing it in India.
While paying a visit to any place of worship, such as temple, gurudwara or mausoleum, make sure that you wear covered clothing. Pick long skirts or trousers and tops that cover your shoulders.
Carry a light stole or scarf to cover your head with you as it will protect you from the sun and will be handy while visiting certain religious places that make it mandatory to cover the head.